Hotkey Recorder - Hotkey Recorder can record, edit, play back macros, key and mouse events.
Price :$34.95

Shipping Info:
1. Registration Code will be sent by Email
2. Download Insurance Service (Optional)
3. Backup CD(Optional)
4. 100% Purchase Secure.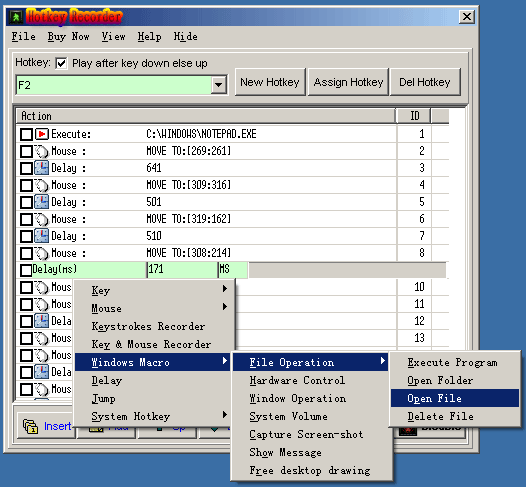 Hotkey Recorder can record key and mouse events to file and play them back. Macros often used can be defined and played back. Macros, keystrokes and mouse events can be assigned to a hot key. When the key sequence is pressed, Hotkey Recorder will launch these macros.
Hotkey Recorder may record and save mouse movements, mouse clicks, and keyboard keystrokes in any applications, When you need, you can replay the recorded activities for many times.
To install Hotkey Recorder you only have to download the latest version of the software, launch the installer and follow several easy steps. Everything will be automatically configured and the Hotkey Recorder's engine will be launched. You will see the message that the Hotkey Recorder has been properly installed.
To uninstall Hotkey Recorder, please, open the windows' Control Panel->Add/Remove Program and select Hotkey Recorder (remove only). 
Features
:
Store and Load recorded macros.
Launch applications with parameters.
Insert delays.
Repeat macros.
Edit the scripts by using an integrated editor. 
Open file or URL.
Change keys.
Play the record in loop as many times as needed. 
Load a previously saved record from disk. 
---
Buy Hotkey Recorder Only $34.95

Download Free Trial Version of Hotkey Recorder.
Size:0.86 MB. Download and unzip the packaged installer with password '

abc

'.


Hotkey Recorder free download, Hotkey Recorder offical site, record mouse and keyboard events, windows macros, system macros, hotkey, key logger, change key, playback events, keyboard key, mouse, capture screen, volume controller, hardware control, free desktop drawing, key up, key down, mouse wheel, maximize window, minimize window, terminate process
Comments: